How to import transactions into QuickBooks Online with relevant Reference Numbers
Read this guide and find out how to adjust Document Numbers settings in Business Importer and custom transactions numbers in QuickBooksⓇ Online for your needs.
Overview:
In this guide we will tell you about the three setting options for applying reference numbers to transactions when importing your file into QuickBooks Online with the help of Business Importer.
Apply Reference Numbers from your Excel/CSV import file
This option will suit you if you want to apply DocNumbers which are stated in your Excel/CSV file.
Any column in your file containing Reference Numbers should be mapped to the corresponding field on the mapping step of the import.
In your Business Importer settings you can check if your current configuration will make it possible to import Reference Numbers. To do this click your email address in the top right corner, and choose Settings (1). Select the Document number tab (2) and enable Apply Reference number from import file to transaction option (3). Press the Update button (4) at the bottom of the page.
Generate Reference Numbers automaticallyr
Choose this option if you want the Reference Numbers to be generated automatically.
In this case, you do not need to map the Reference Numbers field on the mapping step (only in case of using the multilined transactions).
Make sure you enabled the setting needed. Click your email in the top right corner, select Settings (1). Choose the Document number tab (2) and enable Generate automatically DocNumber option (3). Do not forget to click the Update button at the bottom of the page.
There is also a possibility to indicate the starting number for each entity in the settings (4). In the example on the screenshot below the numeration of your Bills will start from 25 and will follow the sequence onwards.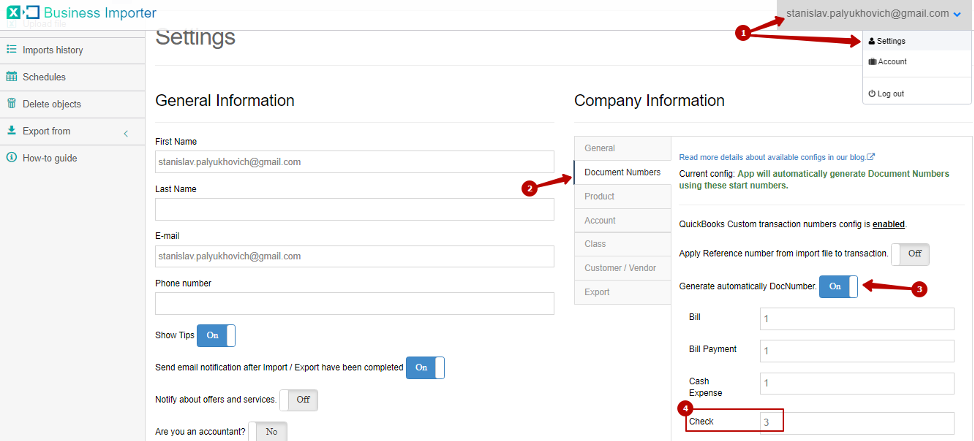 *This feature is available for the following entities: Bill, Bill Payment, Cash Expense,Check, Credit Card Charge, Credit Memo, Deposit, Estimate, Invoice, Journal Entry, Payment Purchase Order, Refund Receipt, Sales Receipt, Vendor Credit.
Keep your QuickBooks Online Reference Numbers
Choose this setting if you want the DocNumbers to be automatically assigned by QuickBooks Online.
Click your email in the top right corner, then Settings (1). Select the Document number tab (2). Disable both of the following settings: Generate automatically DocNumber and Apply Reference number from import file to the transaction (3). Press Update down below to save your new settings.
Make sure your QuickBooks Custom transaction numbers is disabled in your QuickBooks Settings (see Tip 1 of the current guide). Otherwise the DocNumbers field will be left blank.
Useful tips on how to manage Document Numbers settings in QuickBooks Online
1. How to disable Custom transactions numbers in QuickBooks Online.
To disable QuickBooks Custom transaction numbers click the Gear button (1), then choose Company settings (2).
Now select the Sales tab (1) and disable Custom transactions Numbers – make them off (2).
2. How to set Document Numbers for imports of multilined transactions.
If you are importing a multilined transaction, all of the lines containing the identical DocNumbers in the import file will be grouped into one transaction on QuickBooks Online end. This will work once this column is mapped to the app (even if you set QuickBooks reference numbers auto generation).

Business Importer will apply lines with one DocNumber to the one separate entity.
Remember: if you have any questions you can address them to us. We'll be glad to help you!
Just leave us a message filling out our contact form or use the phone/email mentioned in the footer of every page.