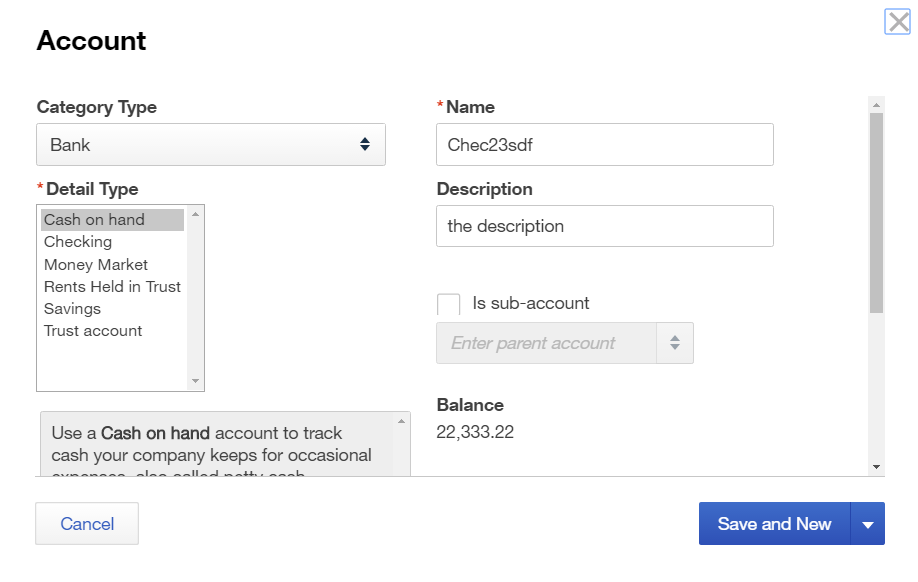 New feature in Business Importer! From now you can import accounts with open balance into QuickBooks Online, using Business Importer. Only for Bank accounts. 
You can import accounts with Open Balance into QuickBooks Online in 3 simple steps:
Go to your QuickBooks Online account and create an account (if you still don't have it) with following features: Type: Equity, Subtype: OpeningBalanceEquity. Save it. 
Go to Business Importer and start your import of accounts (Type:Bank) with Open Balance.
*Important Notes for your accounts with Open Balance import into QuickBooks Online:
Account Type – Bank.
Account Subtype – CashOnHold.
Initial Balance label  corresponds to Open Balance.

3. Start your usual Accounts import into QuickBooks Online:
Go to Import tab. Upload your Excel file or paste the Google.Drive or DropBox link. Click Next.
Select Company and Entity (Account) you want to import. Click Next.
Create mapping – connect Provider's labels to Your Labels.
Review if the information is entered correctly and click Next. Start your import.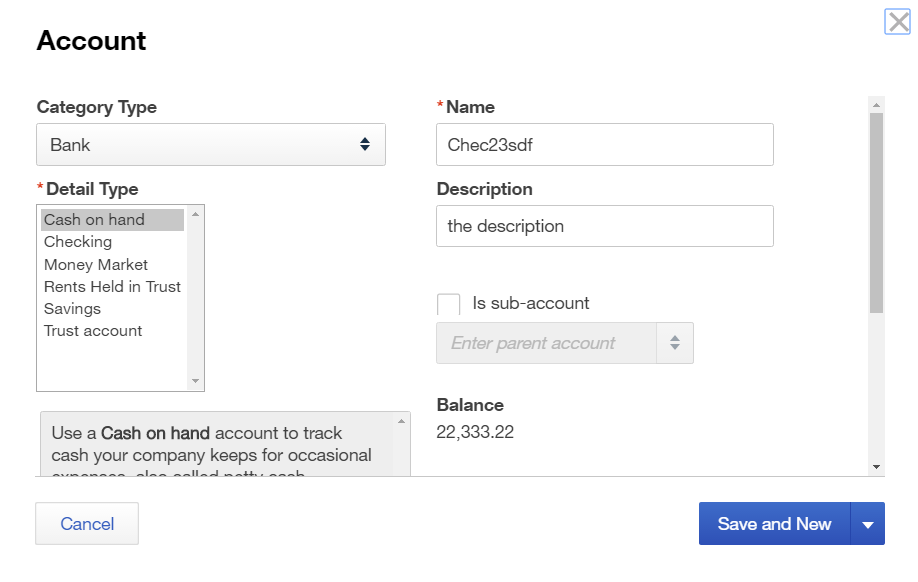 Don't wait until import is done. You will get an e-mail notification. Or check the accounts import result in Scheduled import tab.
How-to Guide – How to import Accounts with Open Balance into QuickBooks online
Here is a small How-to guide that will help you to prepare your Excel properly and create correct mapping:
QuickBooks Field
Business Importer Name
Description
Example
Name
Name
User recognizable name for the Account. It must not contain double quotes (") or colon (:). Maximum of 100 chars.
Checking
AcctNum
Account number
User entered/specified account number to help the user in identifying the account within the chart-of-accounts and in deciding what should be posted to the account. Account number attribute must not contain a colon (:).
Savings
AccountType
Account type
A detailed account classification that specifies the use of this account. The type is based on the Classification. Required if Account subtype is not specified.
Bank
AccountSubType
Account subtype
The account sub-type classification is based on the AccountType value. Required if Account type is not specified.
CashOnHand
ParentRef
Parent
Specifies the Parent Account Name. Please, provide only its name.
Description
Description
User entered description for the account, which may include user entered information to guide bookkeepers/accountants in deciding what journal entries to post to the account. Maximum of 4000 chars.
CurrencyRef
Currency
A three letter string representing the ISO 4217 code for the currency.
USD
TaxCodeRef
Tax Code Name
Name of the default tax code used by this account.
Balance
Initial Balance
Initial Balance value
22333.22
as of
Initial Balance Date
Balance "as of" date. Default value is today.
09/20/2015
AccountAlias
Account Alias
A user friendly name for the account. It must be unique across all account categories. Different accounts cannot have same AccountAlias because both belong to different account category. For France locales, only.
Terrains
TransactionLocationType
Transaction Location Type
For France only. The account location. Valid values include:

WithinFrance

(default)

FranceOverseas

OutsideFranceWithEU

OutsideEU

FranceOverseas
Check out the Accounts with Open Balance import results
There are 5 types of import results.

Errors in the Accounts with Open Balance import
The most common errors and the ways to solve them.
There are 5 the most common errors made by our clients when they import Accounts with Open Balance into QuickBooks online. To prevent this happening, we have reviewed all of them and given solutions below.
Problem
Error occurs
Solution
Correct example
Wrong date format is used.

WARNING Error parsing date 01-14-2015.

: Expected format currently MM/dd/yyyy, but you can change it on your profile page.
Change date format to MM/dd/yyyy.
01/14/2015
Wrong Account Number

ERROR Account Checking stuff

: Business Validation Error: Another account is already using this number. Please use a different number.
Please, provide a valid account number.
ACC-005
Wrong Account Number
 

ERROR Account Account open balance

: Invalid Enumeration Accounts Receivable.
Please, provide a valid account number.
ACC-007
Wrong Account Type
 ERROR Account New openbalance account: Property Name:

Can not construct instance of com.intuit.schema.finance.v3.AccountTypeEnum from String value ("Credit card"): value not one of declared Enum instance names: [Other Asset, Non-Posting, Fixed Asset, Equity, Accounts Payable, Income, Cost of Goods Sold, Other Current Liability, Credit Card, Expense, Other Income, Bank, Long Term Liability, Other Expense, Accounts Receivable, Other Current Asset] specified is unsupported or invalid.

Please, provide a valid account type.
Bank
Invalid Currency code

ERROR Invoice 41

: Invalid or Unsupported currency type supplied. Supplied value:US.
Specify Currency code (CurrencyRef) . Choose letters according to ISO 4217. For example, USD, EUR, CAD, GBP.
USD
Remember, that any question you can address us. We will be glad to help you!
Just leave us a message, call us on (469) 629-7891 or write to support@cloudbusinesshq.com.