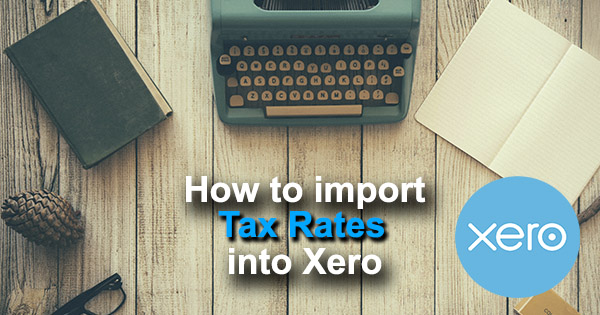 Import Tax Rates into Xero fast and easy, using Business Importer.
How to import Tax Rates into Xero with Business Importer in 5 simple steps
To import Tax Rates into Xero, please, follow 5 simple steps:
1. Sign in to Business Importer and connect it to Xero.
To connect Business Importer and Xero go to:
Accounts – Add company – Xero

2. Go to Import tab. Upload your Excel file or paste the DropBox or Google.Drive link. Click on the Next button.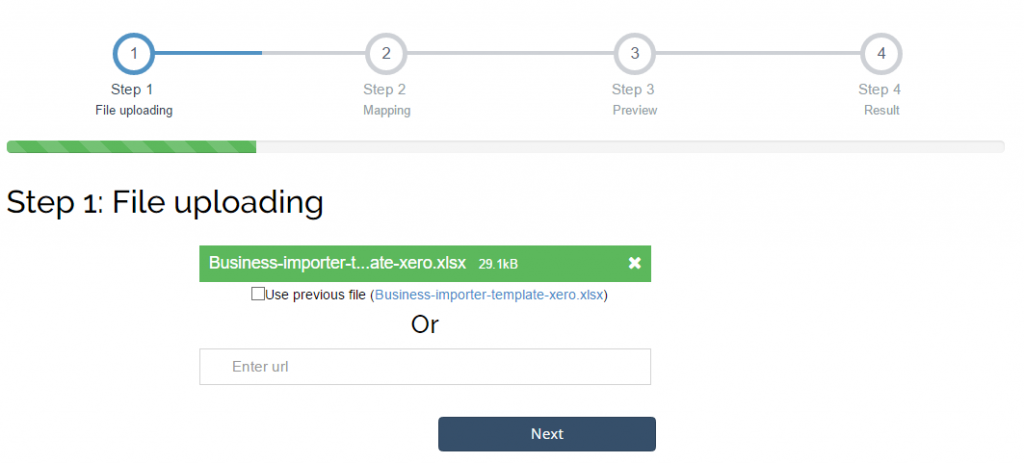 3. Choose the list in your Excel, which contains Tax Rates you want to import into Xero. Click on the Next button.
4. Select Company (you want to import to) and Entity (Tax Rate), and create mapping – connect Xero labels* to Your Labels**. Press the Next button.
*Xero labels – Xero fields at Tax Rates that are required to be filled in.
**Your labels – your spreadsheet columns containing all information on Tax Rates you want to import into Xero.
5. Review* if the information is entered correctly and click on the Next button.

*Correct data if necessary – on this stage you can manually change data in the columns you are going to import into Xero.
Your import is in process. Don't wait until it's done – you will be notified by e-mail.

Check out your Tax Rates import into Xero result in your e-mail or in the Imports History tab.


Or check out the Tax Rates Import results at your Xero account.

How-to Guide – How to import Tax Rates into Xero
Find a detailed How-to guide in Business Importer. It will help you prepare your spreadsheets that contain Tax Rates, Items,  Contacts, Manual Journals,  Bank Transfers, Invoices, Purchase Orders, Bank Transactions, Categories, Bills,  etc. you want to import into Xero.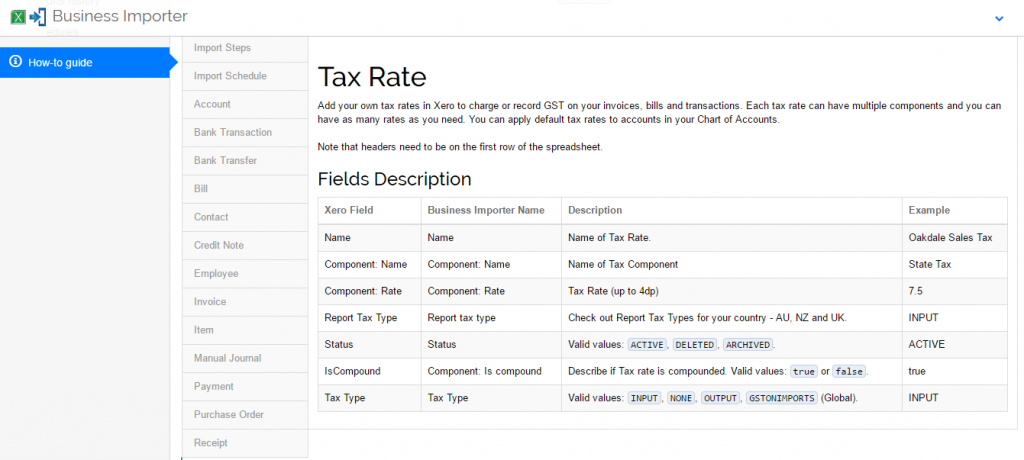 Xero Field
Business Importer Name
Description
Example
Name
Name
Name of Tax Rate.
Oakdale Sales Tax
Component: Name
Component: Name
Name of Tax Component
State Tax
Component: Rate
Component: Rate
Tax Rate (up to 4dp)
7.5
Report Tax Type
Report tax type
Check out Report Tax Types for your country – AU, NZ and UK.
INPUT
Status
Status
Valid values:

ACTIVE

,

DELETED

,

ARCHIVED

.
ACTIVE
IsCompound
Component: Is compound
Describe if Tax rate is compounded. Valid values:

true

or

false

.
true
Tax Type
Tax Type
Valid values:

INPUT

,

NONE

,

OUTPUT

,

GSTONIMPORTS

(Global).
INPUT
Check out the Tax Rates import results
There are 6 types of import results.

Errors in the Tax Rates import into Xero
The most common errors and the ways to solve them.
There are 3 the most common errors made by our clients when they import Tax Rates to Xero. To prevent this happening, we have reviewed all of them and given solutions below.
Problem
Error occurs
Solution
Correct example
No name given for the Tax Rate

Required field Name is NULL

Please, provide a name of the Tax Rate.
Sales Tax (local)
Invalid component.

A single tax component cannot be compound.

Your tax rate is single.
Component: is Compound = false
Invalid status

Value 'ARCHIVE' for 'Status' invalid.

Valid values: ARCHIVED, DELETED, ACTIVE.
Please, provide with a valid status.
ARCHIVED
Remember, that any question you can address us. We will be glad to help you!
Just leave us a message, call us on 302-261-36-44 or write to support@cloudbusinessltd.com.